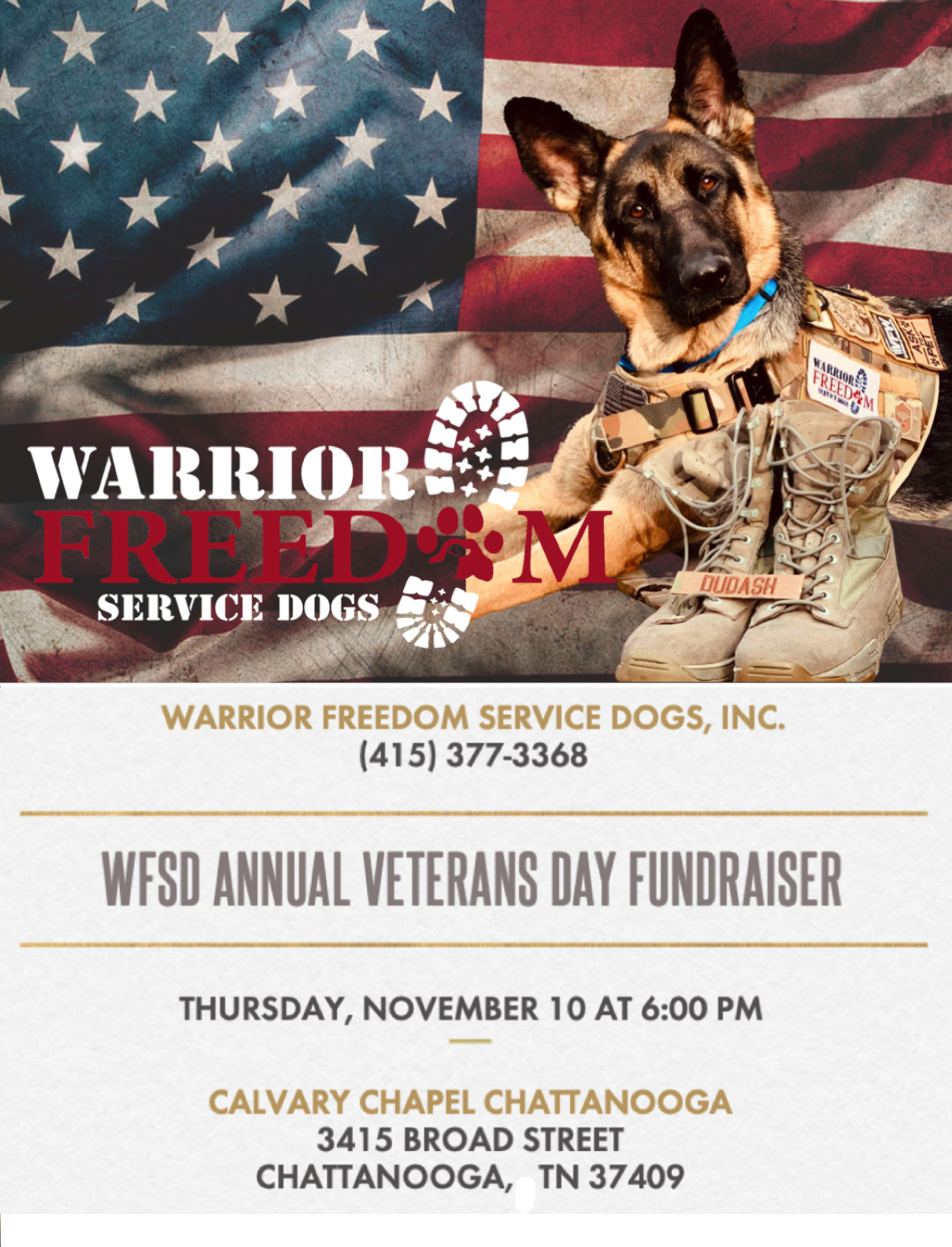 WFSD 1ST ANNUAL
VETERANS DAY FUNDRAISER
WHAT: Warrior Freedom Service Dogs 1st Annual Veterans Day Fundraiser
WHEN: November 11, 2022 at 6:00PM
WHERE: Calvary Chapel Chattanooga, 3415 Broad Street, Chattanooga, TN 37409
Eric's Bio
Eric and Phantom's Story
Chief Master Sergeant Eric M. Dudash recently retired from active duty with the United States Air Force on 1 December 2018. Spending over 30 years in service, Chief Dudash has been engaged in every conflict since Desert Shield & Storm, Iraq, Afghanistan, and multiple other engagements including hostage rescue and drug interdiction.
Obtaining the rank of Chief Master Sergeant/E9, he served in Command positions supporting various MAJCOMS from Air Force Special Operations Command (AFSOC), Air Force Central Command (AFCENT), Air Combat Command (ACC), United States Air Forces Europe (USAFE), Special Operations Command (SOCCOM), Combined Joint Special Operations Component (CJSOAC) and Air Education & Training command (AETC). During his service, he deployed 17 times and completed 167 TDYs to different locations.
Chief Master Sergeant Dudash's last position allowed him to advise Commanders with issues regarding the readiness, utilization, morale, professional development, and quality of life of more than 1,200 permanent party enlisted members in 62 different Air Force Specialties and 35,000 student graduates worldwide annually.
Chief Dudash has a Masters of Arts in Education, concentrating in Adult Education and Training. He resides in Mentone, Alabama with his bride Barbara, and is a proud of his 3 children Zachary, Brooke and Adoree ("Add O Ray"). He is a member of Dekalb County VFW Post 3128 and serves as the VFW State of Alabama Programs and Scholarship Chairman. Along with his new battle buddy "Phantom", they serve in the community by pinning American flags on fellow veterans receiving Hospice Care and speaking to school classrooms, as well as businesses about teamwork, resiliency, and servant leadership.
GET INVOLVED
Become part of a team that strives to be caring, humble, loving, smart, patient, outward-thinking, hard-working, and patriotic.